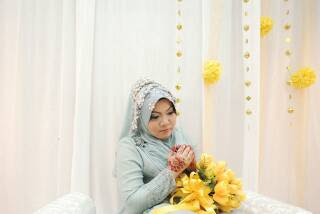 Assalam everybody! How's ur day?

Mine is super duper good since I'm still staying together with hubs!

Bahagia sungguh bile berada di sisi husband and I am now blogging while he is sleeping right beside me. (dia cuti hari ni sbb tu best je tdo while the wifey nih lepas subuh td mmg xlena dah sejak kawen nih sbb x senang hati kalau x siapkan housechores awal2 n now semua keje rumah dh siap tinggal nk masak utk lunch je jap lg, so, masa yg ade nih, saya gune utk buat review before ianya basi, hihi) oh ya, lupa nk bgtahu yg sy masih lg bercuti hingga 8.7.12. Lepas tu akan start LDM dah dgn husband. Arghh mls nye nk masuk kje semula. Hihi
Okeh, this time I wanna review about three (3) things on my solemnization night. Amek kau, review 3 pkara at the same time. Hihi. This is due to kekurangan pics utk diupload, biasela, OP xleh nk kasi semua gambar lg kan. Jadi, sy letak je dulu gambar2 yg OP tag kat FB n yg dia letak dlm blog beliau. :-)
Pertama ialah hijab+veil nikah. Sebelum ni sy ada buat entry ttg hijab n veil nikah ni, n pd sesiapa yg dh baca entry tu, mesti tahu kan sy tempah kat mane. Hijab+veil sy tempah kat seorang tailor in my hometown. Kak Yusmainie nama nya. Dia ni tailor biasa je, tapi Alhamdulillah, dia buat spt yg sy mahu dan sy suka kan nya! Veil tu saya amek inspirasi drp veil pertunangan Aida Gadis Melayu in which sy request kak Yusmainie utk patch Lace kat hijab dan juga veil tu. And the length of the veil pulak, sy minta dia buat veil pendek je (paras tali belakang bra)  spt yg dpt dilihat dlm gambar kedua. I choose short veil for my solemnization sbb sy tak mo rase rimas nak handle veil yg pjg semasa majlis akad nikah. Yela kan, dah la mlm tu mlm penuh debaran, kalau sy sibuk duk handle veil yg pjg, bertambah nervous la sy jwb nya, and again alhamdulilah sy sgt selesa pd mlm itu sbb x perlu mempedulikan veil, hihi. Btw, sy pakai 3 pieces pd mlm tu; hijab, then sy lilit shawl chiffon n last sekali baru letak veil. Semua material ringan n flowy. Paling penting, selesa dan praktikal buat saya!
Kedua ialah make up. Wowowowo, part mekap masa akad nikah ni, sy sebenarnya kurang suka. Sbb nya muka sy nmpk sgt garang! Plus, nmpk oily sgt muka pd mlm tu. Sampaikan husband pun ckp yg muka sy nmpk garang. Husband siap ckp : "Nina mekap sendiri lg cantek" hohoho. Tp masa tu sy x pandai nk menolak sbb yg mekap kan sy ialah kwn baik my sis. And dia mmg rapat dgn family kami. Kalau menolak, takut dia kecik hati lak. Tapi, apepun, xpelah, perkara dh lepas kan. Hihi, yg penting,  husband ckp dlm gambar nmpk ok je (walaupun muke haku tetap nmpk garang dan tak ayu okeh! Warghhh) dan sebenarnya saya dimekapkan dlm keadaan sedikit rushing sbb kwn my sis tu dtg lwt sikit, masa tu tok imam dan pgantin lelaki dh ready kat living room,hihi. Tp lps tu, majlis akad nikah bjalan dgn lancar dan selamat. Alhamdulillah.
Ketiga ialah handbouquet. Saya guna artificial tulip sbg hb. And sy menggubahnya sendiri. X susah pun.  I used 30 tulips for this solemnization hb. As u can see, hb tu besar kan. And sy mmg x minat hb yg kecik2, sbb rase x confident nk pegang. Bila pegang hb besar, rase less nervous sikit. Hihi. Then sy guna yellow ribbon sbg additional deco. Erm, act ribbon kuning tu sy guna ribbon yg dh ada. Sebenarnya ia akan lg cantek kalau guna ribbon yg tone kaler dia light sikit drp tone bunga, tp hantam sajo lah sbb ribbon dh ada. Tp rasenya tetap nmpk menarik kan? (hihi puji sendiri).
Apepun, ketiga2 perkara ni tetap memuaskan hati saya. Dan paling penting, ianya telah mjadi sebahagian drp pelengkap pada mlm bersejarah itu. Trima kasih ALLAH :-)
*Ya ALLAH berkatilah rumah tangga kami, jd kan kami pasangan yg bercinta kerana MU, bukakan pintu rezeki buat kami serta kekal kan kami utk bercinta hingga ke syurgaMU. Amin*
Love

Nina Isofea
Published with Blogger-droid v2.0.2